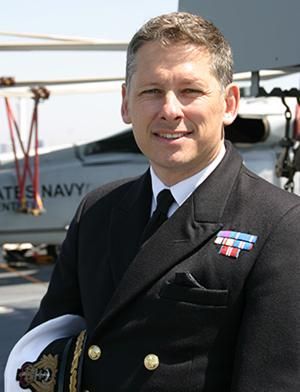 Simon Staley
UK Defence Attaché to Japan, Royal Navy
Captain Staley is a specialist in surface warfare and aviation.

Following graduation from Britannia Royal Naval College, Dartmouth, he navigated the Patrol Vessel HMS PETEREL and subsequently the Mine Hunter HMS COTTESMORE.
Transferring to the Fleet Air Arm, he joined 849 Squadron, flying Sea King Airborne Early Warning helicopters from the Aircraft Carriers HMS INVINCIBLE, ILLUSTRIOUS and ARK ROYAL. He has also been an Officer in the Type 23 Frigate HMS SUTHERLAND as Second in Command of the Type 23 Frigate HMS MONMOUTH.

Captain Staley commanded the Type 42 Destroyer HMS YORK, deploying to the South Atlantic twice, and conducting vanguard operations off Libya, including evacuation of entitled personnel from Benghazi whilst under fire.

Ashore, he has served in the Navy Command Headquarters; in Joint Forces Command Joint Warfare; and in the UK Ministry of Defence in the International Policy and Plans division. He has also been in Command of the Royal Navy Presentation Team. He has conducted a number of operational tours: Baghdad, Iraq, Yokosuka, Japan as the first Royal Navy Liaison Officer to the US 7th Fleet and Japanese Maritime Self Defence Force; and Bahrain as Chief of Staff to a Japanese Admiral led CTF151 Counter Piracy mission.

Most recently he was the lead future and current planner on the newly formed Carrier Strike Group Battle Staff, generating the UK's new HMS QUEEN ELIZABETH for global operations.

In August 2019, he became the UK's Defence Attaché to Japan.