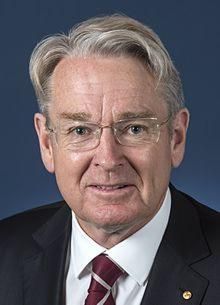 Richard Court AC
Ambassador to Japan, Australian Department of Foreign Affairs and Trade
Mr Richard Court arrived in Japan in February 2017.
Mr Court is a former Western Australian politician who has held a number of senior positions and directorships in private and public companies, including Resource Investment Strategy Consultants, the Anglican Diocesan trustees and the Olympic Team Appeal for Western Australia. Mr Court was elected to the Western Australia Legislative Assembly in 1982. He served as Premier and Treasurer of Western Australia from 1993 to 2001.
In 2008, His Majesty the Emperor of Japan conferred honours bestowing the Order of the Rising Sun, Gold and Silver Star for exceptional contributions to the expansion of Australia-Japan relations, strengthening economic ties between Australia and Japan and also to the exchange between Hyogo Prefecture and Western Australia.
In 2003, Mr Court was appointed a Companion in the General Division of the Order of Australia for services to Western Australia and the community, particularly the Indigenous community, and in the areas of child health research, cultural heritage and economic development through negotiating major resource projects.
Mr Court holds a Bachelor of Commerce from the University of Western Australia.