16 Mar 2020
Japan launches third Hibiki-class ocean surveillance ship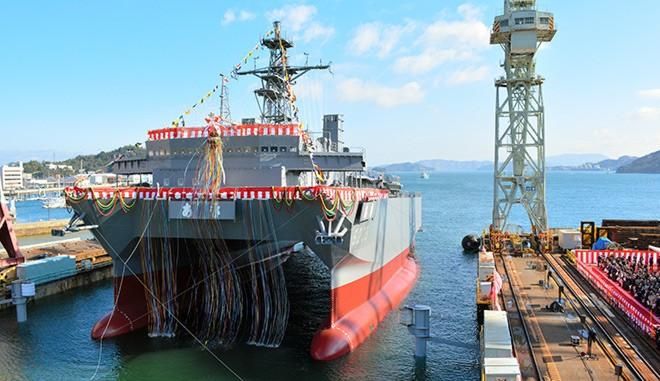 Mitsui Engineering & Shipbuilding (E&S) has launched the third Hibiki-class ocean surveillance ship on order for the Japan Maritime Self-Defense Force (JMSDF) reports Jane's.
Named Aki (with pennant number AOS 5203), the small waterplane area twin hull (SWATH) vessel entered the water on 15 January in a ceremony held at the company's facilities in the Japanese city of Tamano, Okayama Prefecture.
In May 2018 the Ministry of Defense (MoD) in Tokyo announced that the 67 m-long ship was being built for JPY18.3 billion (USD164 million) under a contract awarded to Mitsui E&S that same year.
The ship, which has a full-load displacement of 3,048 tonnes, is expected to be commissioned in March 2021. It will feature a more advanced Surveillance Towed Array Sensor System (SURTASS) than that fitted onto the first two ships of the class - JS Hibiki (AOS 5201) and JS Harima (AOS 5202) - which entered service in 1991 and 1992, respectively.
An MoD spokesperson told Jane's in May 2018 that the new ship is intended to "further enhance Japan's capability to gather acoustic information in the seas amid increasing and expanding submarine activities by neighbouring countries".
The Hibiki class has an overall beam of 30 m, a top speed of 11 kt, and a standard range of 3,800 n miles, according to Jane's Fighting Ships. The vessels, each of which has a crew of 40, also feature a flight deck for helicopter operations.
Source: Jane's