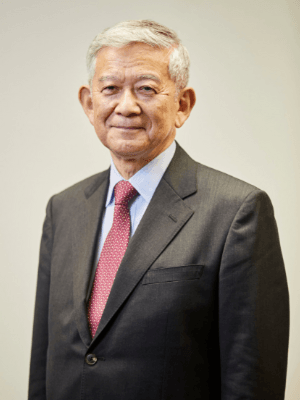 Senior Research Fellow, Institute for Future Engineering (IFENG)
Vice President, Japan Institute for Space and Security (JISS)
Auditor, Japan Forum for Strategic Studies (JFSS)
Visiting Researcher for the House of Representatives (Lower House)
Senior Advisor, Advanced Accelerator Association Promoting Science and Technology of Japan (AAA)
Visiting Scholar, National Graduate Institute for Policy Studies (GRIPS)
Others:
Advisor, The Policy Alternatives Research Institute, Tokyo Univ., (Feb. 2009 – Feb.2016)
Committee member, Next Generation Deep Sea Exploration System, MEXT (Ministry of Education, Culture, Sports, Science and Technology), (Jan. 2016 – July 2016)
Committee member, Defense Equipment / Technology Policy Experts Committee, ATLA (Acquisition, Technology & Logistics Agency), (Feb. 2016 - )
Committee member, Expert Committee of Strengthening Innovation Policy for "Safety and Security", Cabinet Office (Dec. 2018 - )
Education:
Bachelor's degree in mechanical engineering, Hokkaido University (1969)
Master's degree in mechanical engineering, Hokkaido University (1971)
Mr. Nishiyama joined Mitsubishi Heavy Industries, Ltd. (MHI) in 1971 and worked on missile system development (air-to-air missile and air-to-ship missile).
He worked on SAM-X study in 1975, which would replace NIKE-J surface-to-air missile. In 1985, he worked for Patriot system introduction to Japan, which was licensed production program from Raytheon.
In 1988, MHI contracted for WESTPAC (Western Pacific) TMD (Theater Missile Defense) Architecture Study from U.S. DOD and he took a major role on study in Japanese industry team. He became a director for Japan Patriot program and Theater Missile Defense program of MHI in 1997.
He became a General Manager, Guided Weapon Systems Department, Aircraft and Special Vehicle Headquarters, MHI in 1998. Then he became a Deputy General Manager, Aerospace Headquarters, MHI in 2004, being responsible for defense systems, such as fighters, helicopters, guided missiles, torpedoes, shipborne systems and BMD (Ballistic Missile Defense). Then he was a Senior Advisor in 2007.
Mr. Nishiyama was retired from MHI at the end of September 2011.
Award:
"Outstanding Achievement Award: BMD Japan Cooperative Program" from U.S. National Defense Industrial Association (NDIA) in 2007.
"JSME Medal for Outstanding Paper: Study on the fluid dynamics in a shear flow" from "The Japan Society of Mechanical Engineers (JSME)" in 1973.